Colleen's house
Our next stop was Oklahoma City, home of our very excellent friend Colleen. She had warned us that terrible weather was on the way. We checked the forecast: "Wintry mix."
Yawn. Like, some snow? A little sleet? Come on. You're talking to the team that just braved Highway 67. We held our course.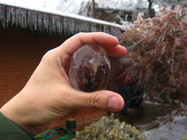 It turns out that Oklahoma's version of a wintry mix is actually a lot like The Day After Tomorrow. And the storm we were in store for turned out to be one for the record books.
First came snow, which melted just enough to refreeze into a layer of ice. Then came heavy rain, which froze on contact with the ice. Soon, everything was deeply encased.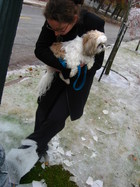 Colleen's dogs refused to be walked — one ran back inside and the other just stood there shaking and standing on three legs at a time ("and only that many because she couldn't hover," said Colleen's dad).
That night, Colleen's parents took us out to dinner. We were the only ones in the restaurant. Literally the minute we returned home, the lights flickered and went out. Colleen has several computers, and the battery backups all started beeping. Between the darkness and the noise, the little dogs were terrified. Colleen called her parents to ask if we could spend the night, but before we made it over there, they too lost power. Instead we stayed with her cousin. Overnight, their power went out as well. This was happening across the state — the worst outage in Oklahoma history.
In the morning we went to Colleen's parents' house — they had a gas stove that was still working, and could thus provide some heat and breakfast. Getting there was not easy: there were fallen branches, fallen power lines, and entire fallen trees blocking half the streets. It was a bizarre frozen life-sized maze.
Fortunately, the three of us had a combined 80 years of video-game-playing experience and so we knew that you just keep to the right and eventually you get where you're going.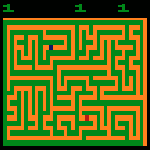 Things warmed up slightly in the afternoon, and some of the ice turned to slush. Colleen suggested that despite the impending darkness this would be our best opportunity to get out of town, before the temperature dropped and everything iced over yet again. They still had no power, and we had legions of readers awaiting our updates, so we grabbed the ice scraper and went to free the car. Even after allowing the car twenty minutes to heat up, the ice scraper was useless; in some areas, the ice was an inch and a half thick. We had to use a hammer to break through.
We were originally going to visit all the major barbecue spots across the Southeast and write about how they compared to one another, but since the storm had hit points north and south just as hard, we had to cross off Texas, Kansas City, and St. Louis, and proceed straight to Memphis.
As we were cruising down the interstate toward the Arkansas state line, we realized with surprise and alarm that many of our fellow drivers had not completely cleared the ice from their cars. I say without exaggeration that the sheets flying through the air were as large as three feet wide, two feet tall, and perhaps an inch thick. Some were launched upward in a graceful and terrifying arc — perhaps they came from the hood — and provided our second video game experience of the weekend.
You can see more photos of the ice storm carnage in our Flickr set.
All words and pictures © 2007 or 2008, but if you ask us nicely we'll probably let you use them. You can
write to us here
.