Nevada and Utah: Polar Opposites
Miles driven: 452
Weather: Nice at first, then very rainy
Days since our last Chinese food: 0
Days since our last good Chinese food: 25

Full-page map
A real nice drive
There's pretty much only one way to go east from Death Valley, and it's actually a terrific route. Soon after leaving the park you hit Nevada, where of course you immediately see sketchy casinos and fireworks stands built right up against the state line.
After that comes the Nevada Proving Grounds, where over 900 nuclear tests have been conducted since 1951. It's only open to the public one day each month, and this winter it's not open at all. Even when they'll let you in, you can't bring a camera, which is a shame because we've heard that the landscape is riddled with craters — you can get an idea from these satellite photos. Back in the 1950's, the mushroom clouds could be seen 100 miles away, much to the delight of tourists in nearby Las Vegas.
Speaking of Vegas: We skipped it, even though for us it was like being a kid driven past Disney World without stopping. Nonetheless, we swallowed that bitter pill since it wasn't in the spirit of the trip — we want to focus on the places that are hard to get to if you're not on a long vacation. Besides, I already know exactly how a Las Vegas writeup would have gone:
Hilary played blackjack. I played craps. One of us lost a little money, but that was okay, because the other won a little. Then we ate at Rosemary's and the food was incredible but we were too full to order dessert and the taxi driver tried to rip us off.
For us, a trip to Vegas is like rewatching your favorite movie: You know the entire plot in advance, but it's still a good time. Anyway, I'll let Hilary take it from here.
Valley of Fire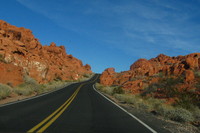 As we blew past Vegas on the interstate, Mike noticed a side road on the map looping through something called the Valley of Fire State Park. We decided to take the detour, and it was unbelievable.
The name comes from the craggy red sandstone formations on either side of the road. In the coming days we would see much red sandstone, but never as bright, or so many different shapes in close proximity. Some of them look like pillars, some like beehives, and some have formed arches. It's less than an hour north of Las Vegas, and we definitely recommend the daytrip.
Heading back to I-15, we passed a sign for the Lost City Museum and pulled in to find out what that referred to. It seems that an ancient Native American tribe, the Anasazi people, once inhabited this area.
(Quick note on language: "Anasazi" is a Navajo word meaning "ancient enemy." The Hopi, who consider themselves descendants of these people, reject this term for obvious reasons. The Hopi name for these people is "Hisatsinom" or "the ones who came before".)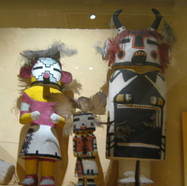 Anyway, much of the land they occupied was permanently flooded with the construction of the Hoover Dam, and the museum consists mainly of artifacts hurriedly excavated before its completion. Outside are replicas of several complete Pueblo buildings. It's worth a stop if you're passing through Overton.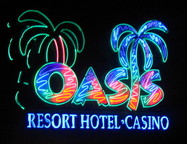 On our way out of Nevada, we stopped in the border town of Mesquite. Sue from Death Valley's Borax Museum (not mentioned in our writeup since it was as boring as you'd expect) recommended we have dinner at the Oasis casino. It turns out that the Oasis is the biggest thing in town — a huge casino that wouldn't be out of place on the Las Vegas Strip, except for the abundance of $5 blackjack and the 10:1 odds at the craps tables. We'd arrived about 15 minutes before the dinner buffet opened, and we spent that time losing money at 25¢ video poker.
Another difference between the Oasis and the Strip: the buffet was only $9.50, and it was pretty darn good. It probably helped that we arrived early so the food hadn't been sitting out for hours, but all the salad bar items were fresh, the roast beef was tender and flavorful, and the waiter was attentive. After dinner, we couldn't resist another go at video poker, but it worked out well — I won back all but $2 of my losses, and Mike went on a run and ended up $6 ahead.
I doubt we'd ever choose Mesquite over Vegas, but if we were passing through the area again we might stay the night.
Zion
We really only visited one attraction in Utah, but it was a doozy. Zion National Park is beautiful and awe-inspiring. We drove the park's main road from end to end and went on a 2.5-mile hike on its Watchman Trail. The path starts out in juniper-dotted foothills and ascends to a loop trail with a commanding view of two canyons and a nearby town.
It's hard to select just a few pictures from our time at Zion, so let these whet your appetite and then go check out the Flickr album to see the rest.
Spothopping Tip #2
National Park admission fees can be surprisingly expensive, but the National Park Service offers an annual pass that's a great deal if you're going to three or more parks.
We would have saved some money if we had known about it at the start of our trip, but we'll just have to consider our overpayment a form of charity.
A day off
We took a break from our travels and spent a day holed up in our room in St. George to work on the site.
It turned out to be excellent timing, because it rained heavily all day. Furthermore, St. George seems to be the Internet capital of Southwestern Utah — our connection was blisteringly fast, which was a nice change of pace from the Death Valley Visitor Center.
We did brave the rain to see one local attraction. Hilary's going to tell you about it.
Brigham Young Winter Home
When Brigham Young was old and arthritic, he began spending winters in St. George where the weather was warmer and drier than in the Salt Lake Valley. His house has been restored with period furniture and fixtures, and a few items that actually belonged to him.
The tour started next door in the telegraph office, which the leader of the Mormon Church needed in order to communicate with headquarters in Salt Lake City. At that time telegraph signals could only travel 50 miles, so relay stations were set up across the state. To this day, there are small towns spaced out every 50 miles between the two cities. The St. George office still has a complete telegraph setup with all period machinery. We played around with it, which hopefully didn't result in a garbled telegram being ticked out in a Salt Lake City museum.
Our sister-missionary tour guide asked us flat-out what religion we were. When we coughed uncomfortably, she asked if we were LDS. We said no, we're just interested in history. That was her cue to lead us to a library of introductory Mormon literature and offer to send some missionaries to our motel room later in the afternoon. We demurred, and continued into the house.
The furniture and fixtures in the home are made of local pine — the only wood available at the time — but elaborately painted to look like mahogany, cherry, and oak, right down to the grain and knotholes. Even the (very convincing) "marble" fireplace is actually painted pine. The upstairs bedrooms have some original furniture as well, including a wooden trunk built by Young himself.
The sister was cagey about how many wives he brought to winter with him in St. George, but clearly Amelia (#46) was the lady of this house. Of course I was most interested in the crochet bedspread in her room, which may or may not be original but has a very nice popcorn-filet pattern.
Previous spot: Death Valley -*- First time here? -*- Next spot: Arizona
All words and pictures © 2007 or 2008, but if you ask us nicely we'll probably let you use them. You can
write to us here
.