Hitting the Road: Getting There Not Actually Half the Fun
Hours at the DMV: 2
Hours on the road: 7
Cars encountered after sunset: < 10
The DMV
One of the first destinations on our road trip was the Department of Motor Vehicles. Before we left the state, we needed to trade in our New York licenses for California ones — especially mine, which was just days from expiring.
They say that the best time to go to the DMV is in the middle of the afternoon in the middle of the week in the middle of the month. As luck would have it, we had no choice but to go on the Monday morning after Thanksgiving. It wasn't a total nightmare, though — we were out in two hours, which is average by DMV standards.
Still, it wasn't without a struggle. The first bad sign was when we reached the triage clerk and asked if there would be a written test. "Yes," he said without blinking, "and it's very hard."
Needless to say, we spent our waiting-room time devouring the California Driver Handbook. Hilary could afford to fail, using her New York license until whenever we returned, but as I mentioned, I didn't have that option. If I failed, I'd have to wait seven days to try again, by which point my license would be expired and we'd be in another time zone.
Still, Hilary was studying the book as intently as I was, because she's very competitive and wanted to outscore me.
They called our names and we each picked up the 36-question test. The vague wording at the top — "PASSING GRADE: 6 OR FEWER ERRORS FOR ORIGINAL APPLICANTS / 3 FOR RENEWALS" — left me wondering how much of a cushion I had.
After finishing the test, we had to get in line for grading. I'm proud to say that I did not wet my pants.
The good news was I passed. The bad news was that Hilary had outscored me by a point. But it turned out we had answered the same way! Hil though it was a simple error, but I think the fix was in. The conspiracy probably goes all the way up to Governor Schwarzenegger. By the way, his face is on page 3 of the handbook. It's surreal.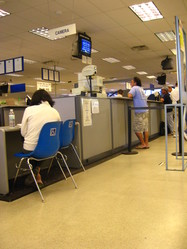 Anyway, that wasn't the end of it. Just when we thought we'd overcome the final obstacle, they told us the camera wasn't working ... and it was a statewide problem.
As always in situations like this, I really wanted to help, but only in my dreams does a panicked official ever get on the PA and dramatically ask, "Is there a computer scientist in the house?"
So we just sat there discussing whether to wait it out or come back later when suddenly a flash went off — the system was back up! Well, sort of. From what I could gather, the cameras had lost the network feed that tells them whose picture is being taken, so the operators had fallen back to an older technology that requires typing everyone's information into early-1980's-era green-on-black terminals.
It was slow, but it worked. We walked out of there with our new licenses and hit the road.
When we needed to stop and eat, we went for some of our favorite California fast food: fish tacos and In-N-Out Burger.
If you've never had a fish taco before, you're probably imagining the wrong thing. It's not like going to Taco Bell and asking them to substitute a can of tuna for the usual ground beef. The perfect fish taco is made with a lightly battered fried fish filet, shredded cabbage, salsa, and creamy white sauce, served on — and this is very important — a soft corn tortilla.
Our favorite source is Rubio's, a taqueria chain we discovered at Petco Park. Get the regular fish taco; the "Fish Taco Especial" ruins the delicate balance with heaps of cheese and guacamole.
It might not seem like much when you eat it, but Mike and I both find it to be the kind of food that inspires cravings (chewy! crispy! crunchy! spicy! creamy!). This can be a problem northeast of San Diego, where there are few fish tacos to be had, and those that are available usually get the details wrong (e.g., grilled fish on flour tortillas). It's easier to find a good tongue taco in New York than a proper fish taco.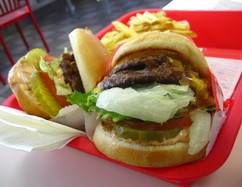 Speaking of cravings, we usually start jonesing for In-N-Out Burger about ten minutes after we land in California. The menu is extremely simple — just burgers and fries — but they do both very well. As Bruni noted, it's necessary to order "double meat" (or "double double", if you're into cheese) for the burger to stand up to the generous lettuce and tomato garnishes, especially if you order it "animal style", i.e., with sauteed onions and Thousand Island.
All words and pictures © 2007 or 2008, but if you ask us nicely we'll probably let you use them. You can
write to us here
.